Bredesen Protocol
The Bredesen Protocol involves multiple strategies to address specific health issues that contribute to Alzheimer's Disease (AD). The global burden of dementia is staggering, and unfortunately on the rise. Of the 318 million Americans currently living, 45 million will develop Alzheimer's disease. There are 75 million Americans with ApoE4, the most important genetic risk factor for Alzheimer's disease. It is expected that by 2050, there will be over 160,000,000 patients with Alzheimer's disease globally. For women, Alzheimer's is more common than breast cancer, as women make up over 65% of the patients and 60% of the caregivers. MPI Cognition was established to reduce the burden of dementia and reverse the process in those with Alzheimer's disease. The Bredesen ReCODE protocol involves multiple strategies to address specific health issues that contribute to Alzheimer's Disease (AD). The results of each strategy are measured by using blood tests, cognitive evaluations, and other markers of overall health improvements. Dr. Bredesen does not see private patients, but does make the protocol available with the help of doctors certified in the protocol through MPI Cognition. Dr. Dixon of the Natural Medicine Group is Bredesen Protocol certified.
The Prevention Program
The Prevention Program is designed for anyone with dementia in the family, or anyone at risk for Alzheimer's disease. Utilizing Dr. Bredesen's proprietary protocol, a personalized preventative program is generated to normalize all metabolic parameters to prevent the onset of cognitive decline. Please do not wait—get your numbers checked and stay sharp for decades.​
The Reversal Program
We have designed an optimal program to stop the progression of cognitive decline and begin improvement— the Bredesen Protocol is the only effective program to date. This is a comprehensive personalized program that optimizes many different metabolic parameters to enhance cognition and reverse cognitive decline. The overall goal of this protocol is to fix the following (which in turn reverses cognitive decline and helps with Alzheimer's and Dementia):
Insulin resistance
Inflammation/infections
Hormone, nutrient, and trophic factor optimization
Oxins (chemical, biological, and physical)
Restoration and protection of lost (or dysfunctional) synapses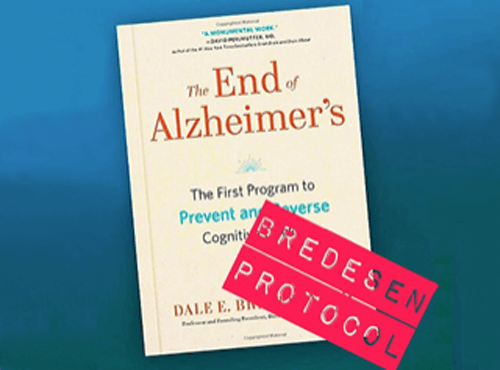 Is the Bredesen Protocol Right For You?
The scale of the cognitive decline problem that medicine faces today is unprecedented and is one of the top 10 causes of death and has no effective treatment within conventional medicine. To determine if the Bredesen Protocol might be right for you or your loved one, schedule a consultation with Dr. Dixon today.
---